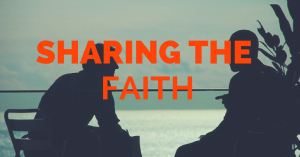 Being a follower of Jesus, his lifelong apprentice, is an all-consuming thing.  And the longer you are on that path the more you discover that there's a whole culture which grows up, in time, around that journey.
Which is NOT a bad thing.  Not at all.
But it IS something to be very mindful of when it comes to sharing our faith in Jesus with others.
The question is – how much of the culture around us ought be factored into what and how we share Christ?  Does the culture of the people whom we seek to reach matter?  Or is that irrelevant?
And that question puts the wraps on our Fall teaching series at KCRC, "Sharing The Faith."   To figure out an appropriate answer to the question, we turned to one of history's all-time Faith-Sharing experts, St. Paul.  And draw from his experience of visiting Athens.  Did he witness in that multi-cultural, religiously pluralistic society?  Well, yes he did.  So….. how?
Acts 17:16-34 provide the instruction.
Go ahead and find a bible, either print version or online or app.
Then download the podcast and the study guide.
Please note – those of you using a mobile device may have to set your browser to "desktop mode" to access the download button (a glitch with our site – sorry about that).
Here's the podcast……..
Sharing The Faith: Translation
And here's the study guide:
Sharing The Faith: Translation – The Study Guide
As always, feel free to pass this stuff around.  You can also find this, and other messages online at the KCRC website under the tab "Sermons And Stuff."
We'd also love to have you join us live for worship.
We gather each Sunday at 10am.
Don't worry about getting all gussied up.  Just come as you are – we're a church full of imperfect people.
And we'd be glad to have other imperfect people, like you, along for the ride!