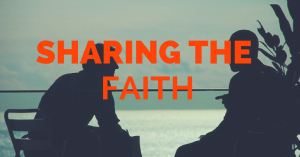 Baseball Fans just enjoyed the pinnacle of their season – the World Series.  Ever wonder what sets the players apart on that field from so many other wanna-be baseball players, who end up trapped in the minor leagues, or working day jobs and playing in the beer leagues?
Yes, skill is part of it.  There's the natural athletic ability that one is born with, or not.  And then the hours upon hours of practice to hone that ability into a razor sharp skill.
Yet, one can remain in the minors even with all of that.
I was listening to an interview with a sports psychologist recently who fingered this as one of the key factors in athletic success – MOTIVATION.
If you don't have a strong motivation, lighting a fire in your belly, you aren't going to succeed.
Period.
That's true for way more in life than just baseball.
At KCRC we're working our way through a teaching series that explores why, how, when and with whom we want and need to be sharing our faith in Jesus.  It's called….. "Sharing The Faith" (creative, eh?).
This past Sunday we focused in on MOTIVATION – what lights the fire in our belly to want to share the love and story of Jesus with people that God puts on our life path?
You're invited to share in the conversation.  And hope that you can track with us for the whole series via podcast or live on Sundays.
Our  Bible passage was 1 Peter 3:15, and Matthew 28:16-20.
Go ahead and find a bible, either print version or online or app.
Then download the podcast and the study guide.
Please note – those of you using a mobile device may have to set your browser to "desktop mode" to access the download button (a glitch with our site – sorry about that).
Here's the podcast……..
And here's the study guide:
Sharing The Faith: Motivation – The Study Guide
As always, feel free to pass this stuff around.  You can also find this, and other messages online at the KCRC website under the tab "Sermons And Stuff."
We'd also love to have you join us live for worship.
We gather each Sunday at 10am.
Don't worry about getting all gussied up.  Just come as you are – we're a church full of imperfect people.
And we'd be glad to have other imperfect people, like you, along for the ride!