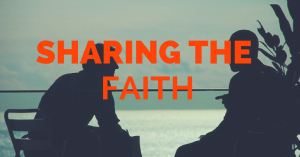 "Really?"  So my friend said to me after going through a sales presentation by an individual.  My friend was looking for a particular product, and had wondered if this was the one.
But the salesperson was….. well…… WOW.  Not a good "wow."  More like, "Wow, what IS this person doing here?  If she's not excited about this thing, how am I supposed to be?
Her attitude came through in spades.  And, no, there was no sale. Surprise.
Attitude – it DOES matter.
I attended an all-candidates meeting recently for the upcoming municipal election.  And what interested me equally as much as the content of the various speeches was the attitude that each candidate brought to the table.  'Cause that attitude will set the stage for what this individual will do when confronted by this or that novel issue in the next few years.
Attitude – That's the thing we tackle in the first of KCRC's Fall teaching series, Sharing The Faith.
Yes, we'll get to thinking about what to say (or not)  and when to say it (or not) and how.  All that sort of good stuff.
But first – Attitude.
Because attitude shapes everything.  It is like the rudder of the ship.  How it is pointed affects everything else.
Our  Bible passage was 1 Peter 3:8-16.
Go ahead and find a bible, either print version or online or app.
Then download the podcast and the study guide.
Please note – those of you using a mobile device may have to set your browser to "desktop mode" to access the download button (a glitch with our site – sorry about that).
Here's the podcast……..
And here's the study guide:
Sharing The Faith: Attitudes – The Study Guide
As always, feel free to pass this stuff around.  You can also find this, and other messages online at the KCRC website under the tab "Sermons And Stuff."
We'd also love to have you join us live for worship.
We gather each Sunday at 10am.
Don't worry about getting all gussied up.  Just come as you are – we're a church full of imperfect people.
And we'd be glad to have other imperfect people, like you, along for the ride!