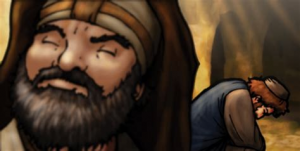 Familiarity breeds……
You know the saying, right?
And it's SO true.
It's really easy to begin to take safety shortcuts when we've been doing a risky task for years.  They say that the people most at risk for injury on the job site are the newbies and the ol' timers.
The newbs don't know.
The others know perhaps too well.
Did you know that this same thing happens spiritually?  Which is the point of Jesus' teaching via a parable in Luke 18:9-14.   We studied it on September 23 as the second last of our teaching series, MEETING JESUS.  This sessions was titled, "WHEN WE ARE CONFIDENT."
You're invited to tag along – Download the podcast, as well as the study guide.
Please note – those of you using a mobile device may have to set your browser to "desktop mode" to access the download button (a glitch with our site – sorry about that).
Here's the podcast……..
Meeting Jesus: When We're Confident
And here's the study guide..…..
Meeting Jesus: When We're Confident – Study Notes
As always, feel free to pass this stuff around.  You can also find this, and other messages online at the KCRC website under the tab "Sermons And Stuff."
We'd also love to have you join us live for worship.
We gather each Sunday at 10am.
Don't worry about getting all gussied up.  Just come as you are – we're a church full of imperfect people.
And we'd be glad to have other imperfect people, like you, along for the ride!