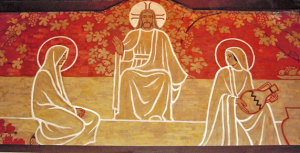 "I'm…… SO……. busy….."
How often haven't you heard that?
Or maybe even said it?
Three cheers for Google Calendar (or equivalent) – keeping our life organised.  Otherwise things would be in chaos.  Never keep all the commitments and to-do's straight.
WHEW!!
Some people wear their busyness as a badge of honor.
Others use it as a sign of being a martyr for one cause or another.
But….
What does  busyness do to us, anyway?  Especially spiritually?
Jesus has some important things to say on this topic.
We get to mull them over as part of our series, MEETING JESUS.
This week – Meeting Jesus: And Distracted.
Our bible passage is Luke 10:38-42.
You're invited to tag along – Download the podcast, as well as the study guide.
Please note – those of you using a mobile device may have to set your browser to "desktop mode" to access the download button (a glitch with our site – sorry about that).
Here's the podcast……..
And here's the study guide..…..
Meeting Jesus: And Distracted – Study Notes
As always, feel free to pass this stuff around.  You can also find this, and other messages online at the KCRC website under the tab "Sermons And Stuff."
We'd also love to have you join us live for worship.
We gather each Sunday at 10am.
Don't worry about getting all gussied up.  Just come as you are – we're a church full of imperfect people.
And we'd be glad to have other imperfect people, like you, along for the ride!