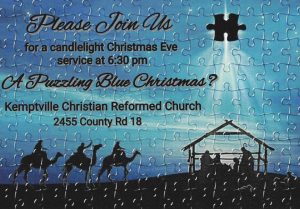 Due to popular demand here's the podcast of the 2017 Christmas Eve service – the whole thing.  Not just a snippet or two.
It was titled "A Puzzling Blue Christmas" – and, as you'll hear, we wanted to make space for people who were struggling, puzzled over what to do with all the jolly and holly, when life had been hard and they weren't feeling so merry;  when they were experiencing hard emotions and memories.  What to do with Christmas?  Would there be anything in it for them?  Or best to just run and hide.  Whether that be you, or someone you love – if you weren't able to be with us, please join in via the podcast.  There's a message of real hope waiting for you!
You can follow along with the message via the online audio player – or download it to your favourite device to catch again later.
Please note – those of you using a mobile device may have to set your browser to "desktop mode" to access the download button (a glitch with our site – sorry about that).
May you be blessed as you listen.
And, hey – please know that we'd love to have you join us live for worship in 2018.
We gather each Sunday at 10am.
Don't worry about getting all gussied up.  Just come as you are – we're a church full of imperfect people.
And we'd be glad to have other imperfect people, like you, along for the ride!
And if you can't join us live, keep an eye on the website for future podcasts.  Better yet, subscribe, and you'll be automatically kept up to date.
God bless!!